Survival Tips in case you get lose in a Foreign Country that doesn't Speak English
|
There are many novices that have never been experienced travelling, that are why travelers and tourists are unconsciously afraid of getting lost in a foreign country because they are far away from a hotel or ? guide. The main issue they face the lack of language skills. There are certain countries have strange customs. How can you explain the people around you need if you do not understand the local language?
You should not be panic and have calm otherwise people will start notice you .These regions are famous for criminals like Egypt, Turkey and United Arab Emirates. They usually chase for perplexed tourists to make a profit. Travel insurance policy is a good way to feel less exposed. Try to stay calm and peaceful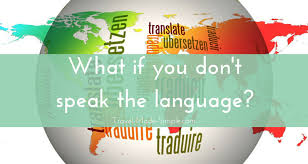 The Language barrier is not a obstacle at all. The secret of speaking silently is very simple: behave like a child. You can look at two or more small children playing together: they understand each other without words.
So, you can use gestures, emotions and spontaneity. You can Find a local resident and explain what you need using gestures. The name of hotel and street name is enough to let the other person understand that you got lost and help you. You can also draw the picture of hotel on paper on a napkin or on the ground.
The traveler should stay away from distrustful strangers and search for a group of tourists with a guide. The guide usually speak English and help you out to get the right direction .The Aged people are usually ready to help. You can also gladly ask other passersby about your destination. The women, youngsters or students, know about places, streets and buildings in a city.
Whatever you do to get help, don not take things on the nerves. Do what you can with what you have; make the best of the circumstance and you will be getting the way once again.