Lesley Carter Begins Her Journey to Make Her Son the Youngest Child to Visit Every Continent
|
Lesley Carter is the owner of Bucket List Publications. She has visited every continent and more than 100 countries. Extreme adventures have topped her bucket list for more than a decade, crossing off items like skydiving, piloting a fighter jet, doing aerobatics in a biplane, sailing as part of the training crew on a tall ship, and racing cars. She's accomplished every goal she set and participated in the wildest experiences in the world. Her current goal is more focused on her two-year-old son, Max. She wants to make him the youngest child to visit every continent in the world. She recently crossed Asia off of her list with a trip to Dubai. Check out their Dubai adventures that include the largest waterpark in the world, a desert tour, luxury resorts, and animal encounters.
Emirates airlines offers a direct, over-night flight from Lesley's home city, Dallas, Texas to Dubai. The biggest struggle during the 16-hour journey with a child was managing the time change and getting comfortable enough on the flight to sleep. Lesley said, "Once Max was asleep, I knew I needed to sleep. The comfortable pillows and blankets provided by Emirates helped. They also provided tasty meals and a quiet environment with low lighting to support sleep."
They arrived in Dubai and used Uber to get to their first destination, Atlantis, The Palm. This Dubai icon is the ultimate holiday destination for families. With the World's largest waterpark, an aquarium with 65,000 marine animals, world-class restaurants, pools and Arabian Sea access, and lots of adventures, they easily filled their days. We asked Lesley about the highlights from Atlantis and she said, "Aquaventure Waterpark was my favorite experience for Max and I together. We could have spent weeks exploring the park and still found fun things to do. Aquatrek Xtreme was my favorite activity for me. It's the world's deepest sea trek. I ventured 10 meters down to the bottom of the Ambassador Lagoon and walked around with 65,000 marine animals. It doesn't get any better than that for a marine lover like myself."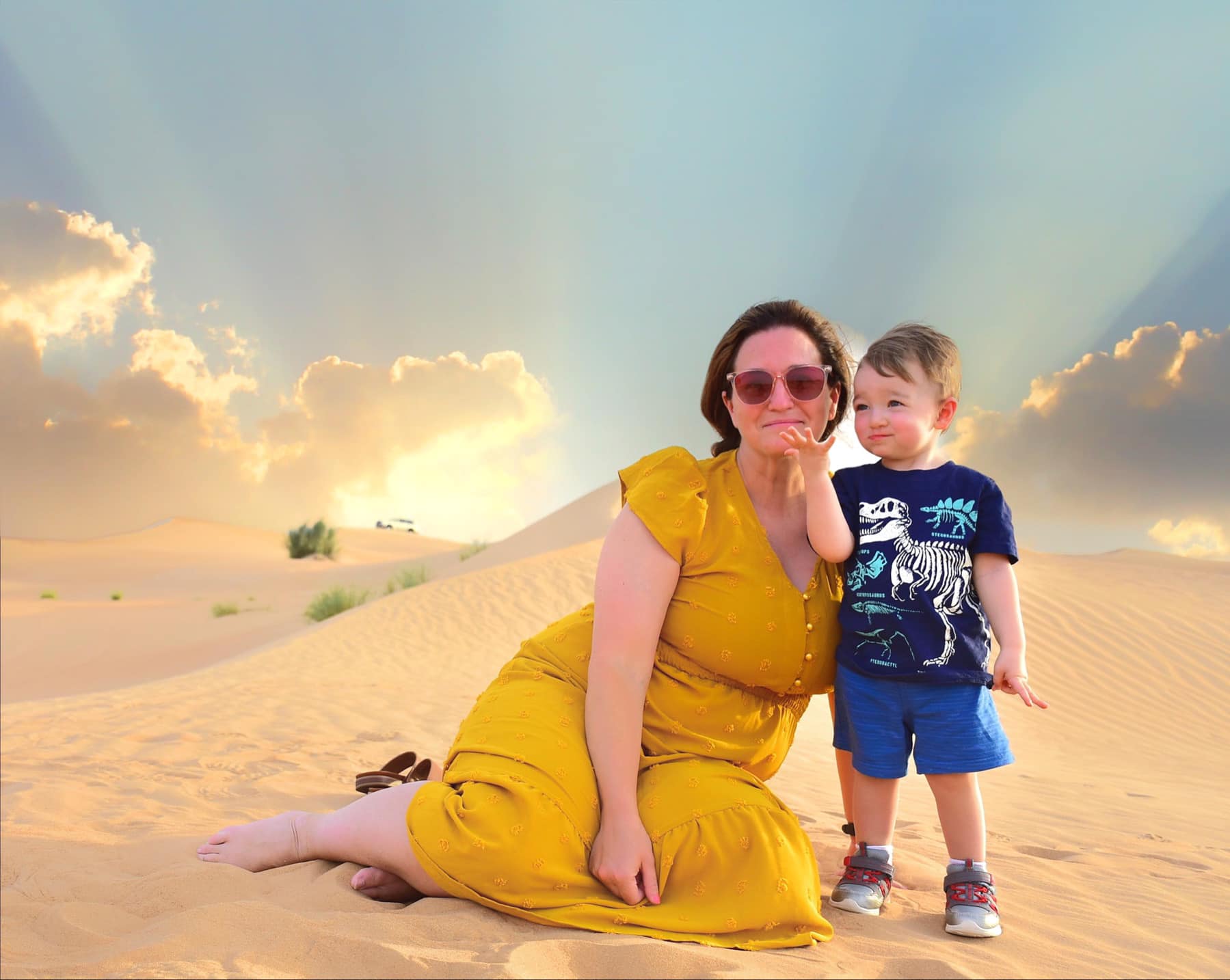 After four adventure-filled days at Atlantis, Lesley and Max proceeded to Four Seasons Resort Dubai at Jumeirah Beach. Located between the superb waters of the Arabian Gulf and the stunning skyline of Dubai, Four Seasons Dubai is an excellent location. Offering poolside cabanas, beach chairs and umbrellas, golden sands, pool and beach toys for Max, luxurious amenities, and access to a wide range of restaurants, Four Seasons Resort Dubai at Jumeirah Beach is a tropical oasis worthy of a bucket list trip.
From Four Seasons Dubai, Lesley and Max participated in an evening desert safari with Arabian Adventures Dubai. It included hotel pick-up and drop-off, wildlife sightings, exciting dune driving, a picturesque sunset stop, a visit to a Bedouin-style camp, a camel ride, sandboarding, falcon display, Henna hand paining, a variety of entertainment, and dinner and drinks. The activities and hotel pick-up and drop-off were the most appealing draw to choosing Arabian Adventures, Lesley said. "The exceptionally friendly and accommodating staff at Arabian Adventures made us feel at home while bringing us on the adventure of a lifetime. We felt safe and welcomed on the tour. Our guide made sure everything went smoothly and we had an excellent experience."
After six days in Dubai, Lesley and Max prepared for the long flight home. As Americans, covid tests were required but the process was made easy with online testing that was scheduled in advance.
Lesley plans to visit each continent with Max before 2024, making Max the youngest child to visit every continent. If her experiences in Asia were any indication of how the journey will go, Lesley is confident that she can accomplish her goal. For More Detail Visit Now: bucketlistpublications.com