Rishikesh – The Gateway to the Himalayas
|
There are many tourist destinations in the Himalayas, particularly in the state of Uttarakhand which are a combination of natural beauty, adventure sports, and pilgrimage. One of such destinations is Rishikesh. It is known all over the world as a premium destination for yoga and adventure sports. Along with that, the place is also well known for spirituality, and many pilgrims from all over the country come to this place and enjoy the holy bath in the Ganga River. It is very close to Dehradun, and many foreign tourists come to this place to practice yoga and meditation for a long duration. Many schools specialize in offering such training for the tourists. It is also very close to Haridwar, and you can get easy access to the entire range of Himalayan Mountains from this point. Because of it, this place is also considered as the starting point for exploring the Himalayan range of mountains by many adventure tourists.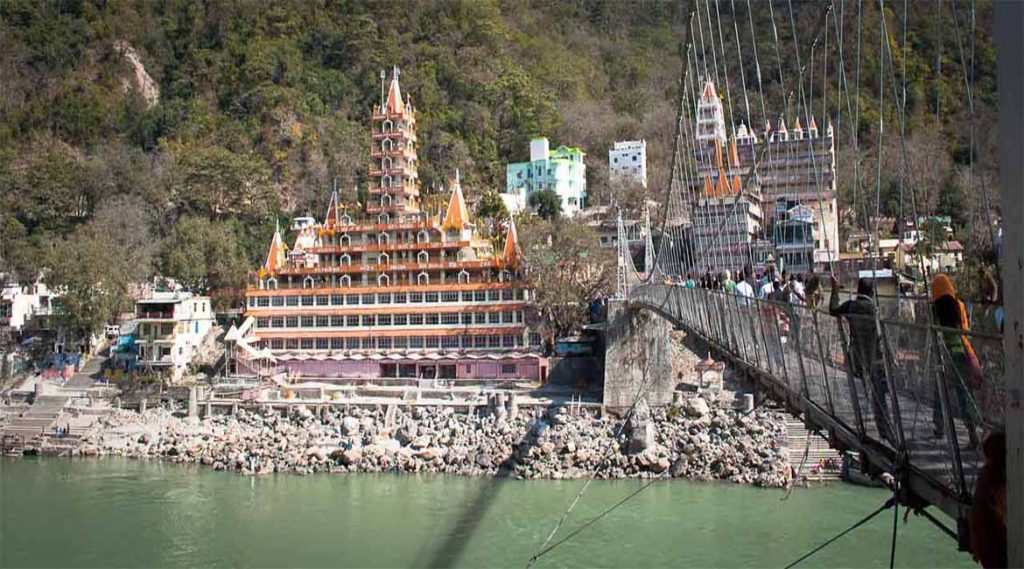 Laxman Jhula:
The amazing bridge stretches for a total length of 450 feet and connects the Tehri district with the Pauri district. You can get the beautiful view of the Ganga River flowing underneath the bridge. The suspension bridge is made from iron, and many photographers come to this location to catch the amazing views from the bridge.
Neelkanth Mahadev temple:
This is a sacred place in Rishikesh that is situated at the height of 1300 m. This beautiful temple Shiva templelies next to the mountain ranges of Nar Narayan. You can see many pilgrims coming from different regions to this place to practice meditation.
Triveni Ghat:
This is the most famous place in the region, and the world famous Ganga Aarti is performed at this location. To visit this place the best time is during the evening time when the earth is performed for the river Ganga.
Parmarth Niketan:
This is one of the topmost yoga centers of the country, and it is also the biggest Ashram of the region. It was founded by Swami Sukhdevanand Saraswati in the year 1942 and has been open for people from all the regions irrespective of their religion and caste. The international yoga festival is also held at this place, and you can see numerous foreign tourists coming to the event. You can also get Ayurvedic treatment at this location.
Byasi village:
It is situated at a distance of 30 km from Rishikesh and well known across the region for various adventure sports including river rafting. As the river flows in a smooth manner in this region, you can safely enjoy river rafting along with your family members. Many professional service providers offer training and assistance for the adventure sports at this location.
Muni ki Reti:
The place is well known for several ashrams and temples along with yoga centers. It is believed that the sages of olden days used to meditate at this place and you can see many tourists coming to this location for their meditation activities.
Source: fogut.com