Hwange National Park – The Largest National Park in Zimbabwe
|
Hwange National Park's official symbol is the majestic image of an elephant. It is home to one the largest elephant herds of Africa. With an area of 14,600km2, it is also the largest and oldest national park in Zimbabwe.
Hwange is undoubtedly one of Africa's most popular game-viewing spots. The park's vast wildlife can be viewed on foot, horseback or on a game-drive. The park's diverse environment reflects Hwange's incredible wildlife collection – including lions, leopards, rhinos, buffalo, zebras, gemsboks, hyenas, wild dogs, and more. While the park's southern portion is sandy and runs along the Kalahari Desert, the northern grasslands are rich in granite outcrops, teak groves, and mopane tree groves.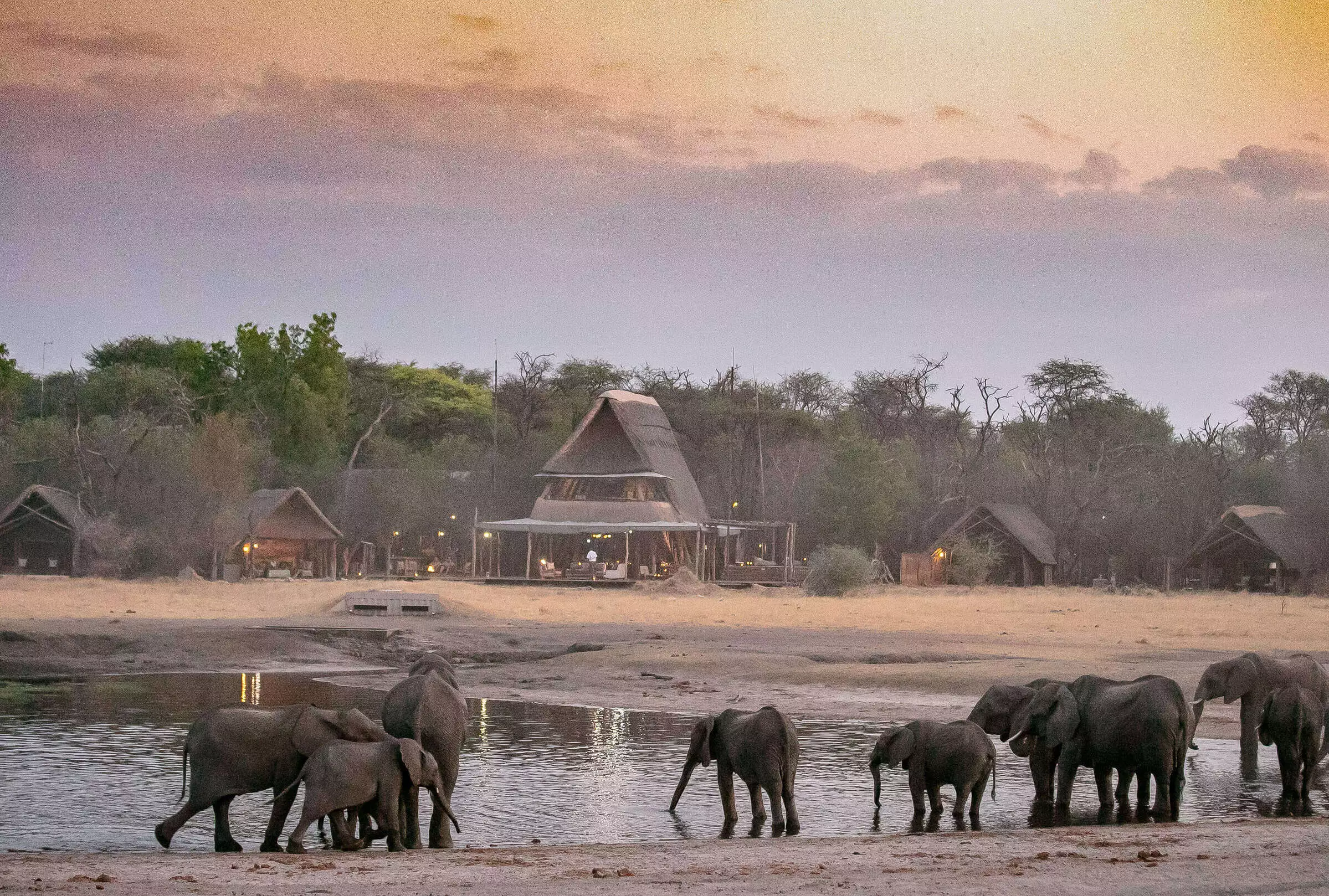 Hwange National Park is located just off the main road between Victoria Falls & Bulawayo. It can be easily combined with a visit to 'the smoke which thunders'. Hwange, which is only about an hour drive from Victoria Falls, has a charter flight airport. Hwange is best viewed in the winter months, from June to August. This is when you can enjoy great game viewing thanks to the wetter waterholes.
Climate
Winter Months: Mid May, June and July. Early August. Although the day is warm with blue skies, it can get very cold at night. Temperatures below freezing are not unusual. It will be cold, I swear!
The summer months are September to May. Warm evenings and hot days.
Rainy season – Generally, between late November to April. However, the occasional drizzle can happen outside of these dates.
The Best Months to View Game
August, September and October are the best months to view wildlife in the park. The animals gather around the few waterholes that are pumped, as water becomes scarce. You will be rewarded with excellent game viewing if you sit patiently and calmly at these waterholes.
A completely different park is created during the rainy season, which runs from late November through April. The dry savannahs become lush fields that offer plenty of grazing. Game viewing becomes difficult as the animals move on. This is the green season, and it has its own magic. It is when all animals and the park rejuvenate themselves and eat like crazy due to the abundant food. You can see newborn animals everywhere, and the birdlife is abundant.
Travel Advice
Zimbabwe is the perfect destination for those who wish to see more than just wildlife from a safari car.
There are many options for game viewing in the country's game parks. These include open-air game drives, boat cruises, canoeing, canoeing, and walking safaris.
Check out the local amenities in the area you are interested in visiting. Tourism is a significant source of income in Zimbabwe. Standards at restaurants and hotels in popular tourist areas are rigorously maintained.
Many of the country's most popular tourist destinations are located far from major cities, in remote locations. Victoria Falls, one of Zimbabwe's most popular tourist attractions is still a very popular attraction.
Currency
US dollars and South Africa rands can be accepted anywhere. However, notes from before 2003 are not accepted. High denomination notes might not be accepted.
Most commercial banks have banking hours Monday through Friday, 09h00-15h30, and Saturday, 08h00-11h00.
ATMs can be found in major cities and shopping centers of Zimbabwe.
In Zimbabwe, credit cards are not recommended. Most restaurants, shops, and hotels accept Visa and MasterCard. Sometimes, American Express and Diners Club are not accepted. Sometimes, proof of identity may be required. Always have a passport and some form of photo identification. At petrol stations, credit cards are not accepted.
Safety
It is a good idea to check with your hotel concierge or tour operator to see if there are any potential dangers along your route.
Avoid deserted areas at night especially. If you're on a self-drive trip, please always lock your car. Park in well-lit areas.
Dress-down (i.e., When travelling to Africa's many cities, don't wear too much jewellery. It is a clever idea to carry a concealed travel wallet.
It is not a good idea to hitchhike.
Photography
When photographing people, please be sensitive. Zimbabweans are known for their friendliness and openness. However, it is polite to ask permission before you start snapping away. Photographing government buildings, military personnel or other public institutions is against the law.
Unmanned Aerial Vehicles, or drones, are not permitted in any conservation area we manage. This is until their impact on wildlife can be assessed and anti-poaching efforts can be evaluated. As our partners from different countries and regions adopt a similar position, this rule will be applicable throughout Africa.
Passports and Visa Requirements
Visitors to Zimbabwe must have a valid passport for at least six months after the date they travel. Two blank pages should be available on passports. Multiple entry visas are recommended for visitors who plan to travel to Zimbabwe's neighboring countries.
What experts say
Avoid using credit cards in Zimbabwe. Some places won't accept them for payment.
Camouflage patterns and designs are not permitted in Zimbabwe. Any clothing that could be considered to imitate military wear is exempted from this ban. It is strongly advised that visitors not wear or carry any military-inspired clothing when they travel in Zimbabwe.